Learn How to Buy Comics to Resell For Profit With our New eBook
EXCLUSIVE OFFER FOR COMIC BOOK CASH SUBSCRIBERS
First Five Customers to Send Us Testimonials Get 50 Percent Cashback!
It's taken us months to get this product ready for you. We're really happy with how it's turned out.
We think the price of $27 is a great deal.
You get detailed analysis on 32 great picks for beginner investors straight from the uniquely talented mind of the Comic Book Insider.
We have made thousands buying and selling these issues. They are readily available and affordable.
Here's a little more about the eBook, with some images of the contents:


Sample of overview page:
Click here to read more.

Sample of analysis page:
Click here to read more.

Sample of sales analysis and buying advice:
---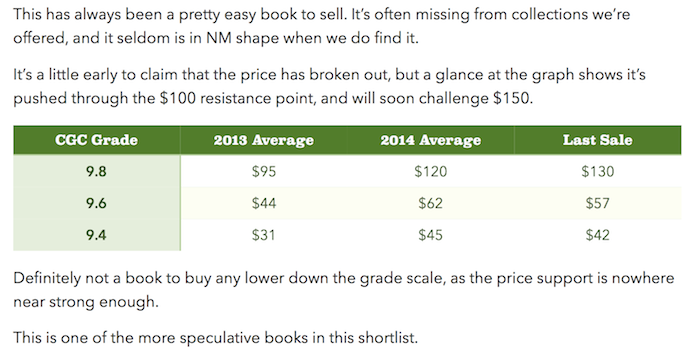 ---

Click here to read more about the buy comics eBook.
What's This About 50 Percent Cashback?
You may have noticed the spaces we have reserved for customer testimonials when you read the sales page.
Bit of a catch 22 really; unless we get our Moms to review the eBook, we won't have any testimonials.
SO... here's the deal. Be one of the first five people to write in with testimonials via email (2-3 sentences about the eBook will do fine).
We'll send you half your purchase price back.
If you're NOT one of the first five, then we'll give you a coupon to save 50 percent on our next product.
Win win!
Ready to order? Click here to get your copy instantly, or use the button below.
You can pay with Mastercard, Visa or Paypal.

If you need more convincing, then click here to read more about the eBook.


---

Cheers
Ashley Cotter-Cairns
Editor, Sell My Comic Books
Enjoy This? Please Pass it On!
If you found this newsletter useful, or just fun to read, and you know other people who might feel the same way, here's how you can help.
Please click to Share This Newsletter on Facebook, mention it in an email to your friend, or post on your favorite comic book forums and user groups!
Here's the sign-up page:
https://www.sellmycomicbooks.com/buy-and-sell-comic-books.html
Missed some? Our back issues can be found here.