Comic Book Cash #4 -- Focus on Incredible Hulk #1 as an Investment
Thanks for subscribing to Comic Book Cash. We're happy to help you make money when you buy and sell comic books!
One of our long-term readers asked me this question the other day:
"How much should I pay for a Hulk #1 CGC 1.0? Is it a good investment long-term?"
I've had a couple of experiences with Hulk #1 over the past year or so. I think they will help to illustrate what a hot comic book Incredible Hulk #1 really is.
Is Incredible Hulk #1 the New Amazing Fantasy #15?
I'm beginning to think so, and certainly my contacts in the comic book industry feel that way. Here are my personal stories, and some stats to back them up.
My First Hulk #1: A Total Rag!
I was still really excited to get my hands on this Hulk #1, despite its condition. There are plenty of reprints of the classic Marvel first appearances, but there's nothing quite like reading an original copy of the first ever issue of a superhero.
Especially the Hulk. He was so cool in the 60s. The gray skin just seemed to add to the mystique. The collection also had a ragged Hulk #6. At the time, I took a picture of both, with a fairly abrupt editorial slant...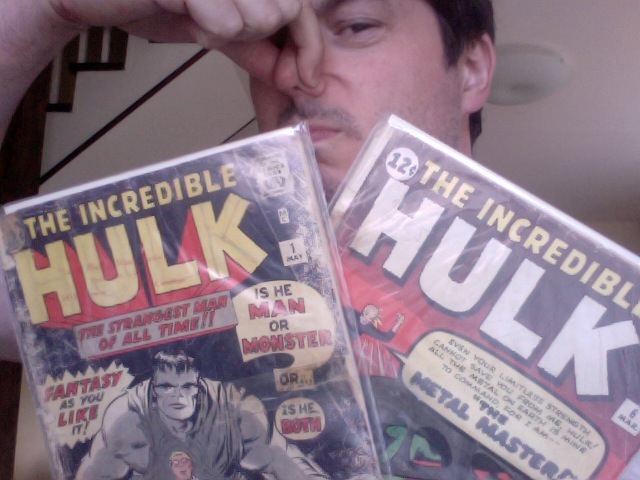 This copy was as ugly as Hulk himself, with tape holding the cover on, more tape on giant tears in the right of the book and so much wear, it was barely purple anymore. But it was complete and unrestored! CCG gave it a 0.5.
Somehow it looked WORSE once it was in the holder...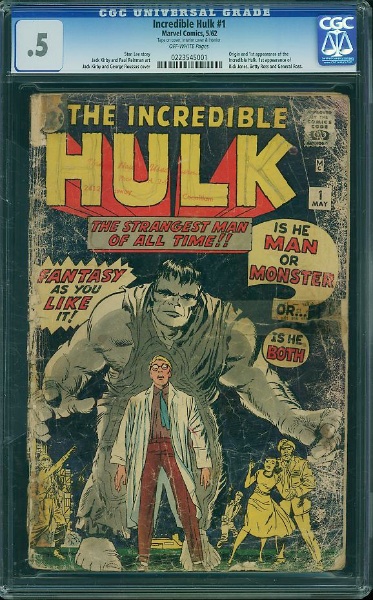 Comiclink sold this for me in an auction in January. It fetched $1,756!
My next Hulk #1 was already processed by now. Part of a much higher grade collection, though unfortunately Hulk #1 itself was not of the same standard.
I was a tad disappointed with a 3.5 for this one. I figured it might sneak a 4.0. But it was heavily creased, and the small tear to the bottom right front cover probably held it back half a grade.
This one fetched $5,100, also at Comiclink.
Hulk #1 in the Raw
My third Hulk #1 was actually a UK edition.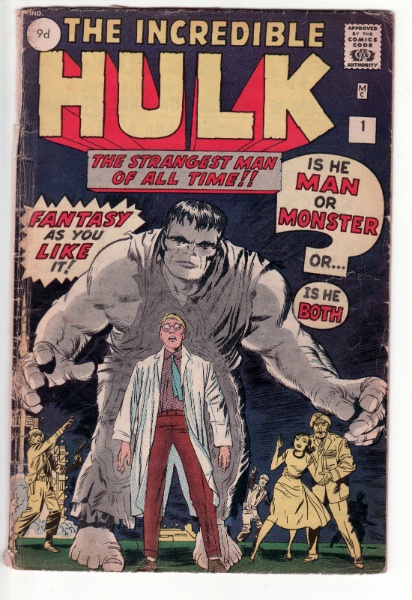 I was offered it for $700 and flipped it on eBay for $2,000. Later I was told the same buyer resold it for $3,000... Oops.
I believed it was probably a 3.0 (bad spine wear), and was on the fence about submitting it to CGC because it was a UK edition.
Typically UK editions of Marvel comics (identified by the price in old pence, "9d") don't sell as well to US collectors. Depending on the issue and grade, the price gap can be steep. Hulk #1, it seems, is becoming an exception to that rule, as collectors seek anything they can afford.
So what do these examples teach us about Hulk #1 as an investment opportunity?
If You're in the Market for a Hulk #1, Now is Probably a Good Time to Buy
Let's presume you have $5,000 to invest in a vintage comic book. Would you choose a Hulk #1, or an Amazing Fantasy #15?

The last sale for an AF #15 in 0.5 (entry level for unrestored grades, but you've seen from the Hulk #1 above how ugly these books can look) was $4,995.

To put that into context, you could instead own THIS MBG roadster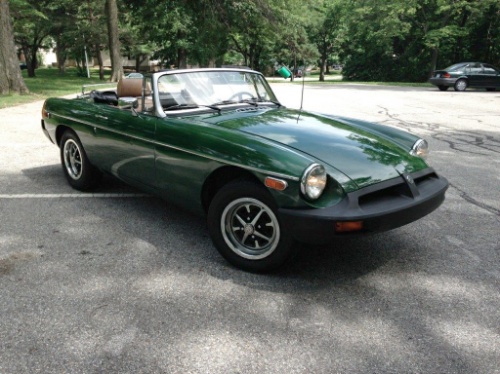 .
Returning to the topic of Hulk vs Spidey, what lessons can we learn about the future prices of Hulk #1?
If my ugly 0.5 sold for nearly $2K, and an equally ugly AF15 sold for $5K, the Hulk probably has plenty of room for appreciation.
Your theoretical $5K cannot afford you both books... but it can afford you a much nicer copy of Hulk #1 than AF15.
We're seeing some strange prices on Hulk #1. $5K sales recently:
CGC 3.5, August 7th
CGC 2.5, August 18th
CGC 2.0, July 17th
CGC 1.5, August 29th
Which would you rather own -- 3.5 or 1.5? But some people will overpay just to get that elusive first appearance.
Here is a graph showing how Hulk #1 has appreciated in recent years. We'll focus on the more affordable, $5K and under market segment, looking at how VG (4.0) examples have performed.
Compare today's entry level of $6,000 in VG to the AF15 VG entry level of $11,000.
We still feel Hulk #1 has a long way to go up. If you're looking for a copy to invest in, then here are some suggestions.
Further Reading

Cheers
Ashley Cotter-Cairns Editor, Sell My Comic Books
Enjoy This? Please Pass it On!
If you found this newsletter useful, or just fun to read, and you know other people who might feel the same way, here's how you can help.
Here's the sign-up page:
https://www.sellmycomicbooks.com/buy-and-sell-comic-books.html
Missed some? Our back issues can be found here.
Please shout this page out on Facebook, Twitter, in an email to your friend, or on your favorite comic book forums and user groups!