Comic Book Cash #2 -- (Dr.) Strange Money making picks!
Thanks for subscribing to Comic Book Cash. We're happy to help you make money when you buy and sell comic books!
Today I'm going to focus on Dr. Strange Marvel Comics. Maybe you already know about the easy money being made on Strange Tales #110?
THE Hottest Dr. Strange Back Issue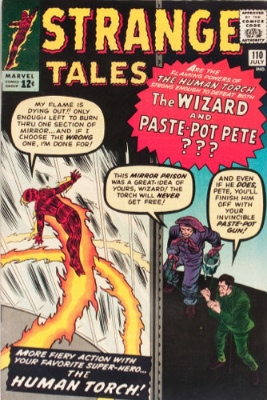 Click to check out the current crazy prices for Strange Tales #110... Did you miss this boat?
Copies of this back issue show up pretty regularly in the collections we purchase from this period. This leads me to conclude that it's far from a rare comic book!
(On which topic... Have you seen our Rare Comic Books Gallery page? It's loaded with the gems of comic book collecting! Well worth five minutes of your daily dreaming time...)
Maybe the word is out now on ST #110, and you cannot find a copy for a reasonable price. Is there still money to be made from Dr. Strange?
We think so.
Much in the way that Star Lord's first appearance got too hot to handle (Marvel Preview #4) as interest in the Guardians of the Galaxy movie heated up, we still think Strange Tales #110 has room to rise.
But if you cannot afford $1,000 for a VG copy of this key issue, are there any other opportunities?
Let's take a look and see if you can make money buying and selling other Dr. Strange Marvel comics.
More Affordable Dr. Strange Appearances...

Strange Tales #115 features the very first origin of Dr. Strange.
Prices on ST #115 are not as insane as #110. In fact, they're pretty affordable.
A VG copy graded 4.0 by CGC sold in June for $155. That's almost triple the 2012 price, but well within reach of most collectors, and surely the origin of this character has room to grow in price?
If you'd like a nicer copy, a CGC 6.0 sold for $260 in March. The last CGC 8.0 sold for $700, also in March, while a 9.0 went for $1,575 in May.
If the Dr. Strange Marvel movie is confirmed, we expect these prices to at least double again before the movie appears.
Here's another potential bargain! Dr. Strange's first (minor) cover appearance: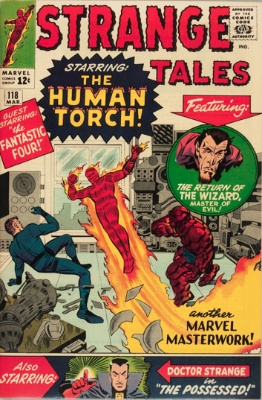 Strange Tales #118 is the first time Dr. Strange's face appears on a cover
Okay, it's only in a small strip at the bottom, but it's something! Have YOU appeared on a Marvel comic book cover? No? Then stop being critical :)
Prices on this book are ridiculously affordable right now. Even a CGC 9.2 sold for just $500 in June! CGC 8.0s will set you back under $100. That's a pretty affordable gamble.
If you're looking for a REAL key issue though, you may need to compete with Fantastic Four collectors to get it...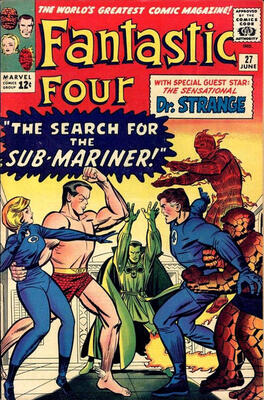 Fantastic Four #27 is the first full Dr. Strange cover appearance, and first Dr. Strange crossover. Click to find your copy.
Published in June 1964, less than a year since Dr. Strange's first appearance, this is both his first major cover AND his first appearance in another Marvel title. That double whammy (plus the fact that it's a Silver Age FF issue under #30) means you may have to pay a pretty penny to get a copy.
But SURPRISE! This is a great opportunity. The word is not yet out on this issue. Prices are starting to warm up in the lower grades.
A CGC 6.0 sold for $132 in August. The last sale of a CGC 8.0 was back in October 2013, but only $345.
There are only 13 copies graded 9.4, 4 graded 9.6 and one 9.8 out there, but a 9.4 sold for just $1,675 in April!
Our advice would be to look for the highest grade copy of Fantastic Four #27 you can afford and hold onto it.
One more cool cover to recommend... My favorite Dr. Strange cover.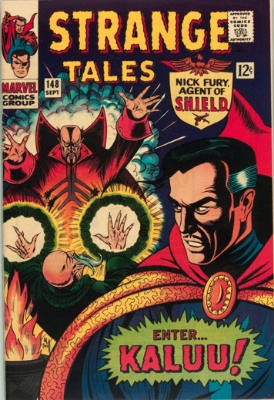 Strange Tales #148, cool full Dr. Strange cover and origin of the Ancient One
Record sale on ST #148 is only $900 for a 9.8!
Some First Appearances to Gamble On
Maybe we could look for some first appearance issues, and hope they take off the way Incredible Hulk #271 did (first Rocket Raccoon)?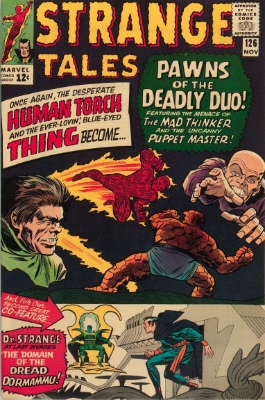 Strange Tales #126, first appearances of Dormammu and Clea. Two for the price of one!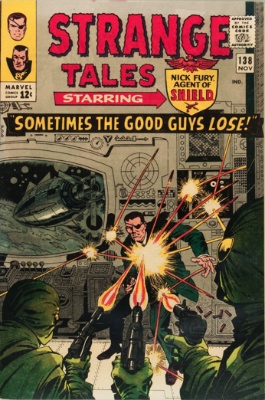 Strange Tales #138, first appearance Eternity.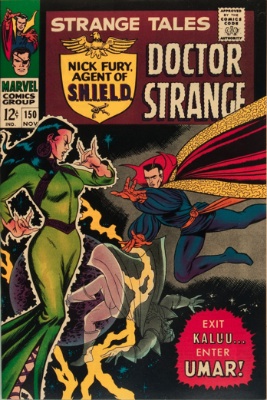 Strange Tales #150, first appearance Umar.
Origin Retold, First Dedicated Issue
We should mention Doctor Strange #169 here. Collectors are investing in higher grade copies of this as a more reasonable alternative to ST #110. And prices are reflecting this interest!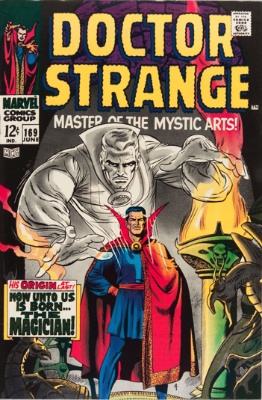 Doctor Strange #169 is the first dedicated issue for the character.
Prices on this book have basically doubled across the board since 2012:
CGC 7.0 sold for $150 in June
CGC 9.0 sold for $440 in July
CGC 9.4 sold for $837 in August
And a new record of $3,600 was set in July for a CGC 9.8. That's up from $1,800 in 2012 and $2,100 in 2013.
With 28 copies in 9.8 and 70 copies at 9.6, you should be able to find a nice Doctor Strange #169 and hold it for a profit.

Cheers
Ashley Cotter-Cairns Editor, Sell My Comic Books
Enjoy This? Please Pass it On!
If you found this newsletter useful, or just fun to read, and you know other people who might feel the same way, here's how you can help.
Here's the sign-up page:
https://www.sellmycomicbooks.com/buy-and-sell-comic-books.html
Missed some? Our back issues can be found here.
Please shout this page out on Facebook, Twitter, in an email to your friend, or on your favorite comic book forums and user groups!