Why Superman's Pal Jimmy Olsen #134 is a Hot Comic
Thank god for Jack Kirby. Possibly the weirdest and most unappealing series DC ever put out (perhaps a tie with Lois Lane -- only one back issue makes it onto the Hot 100, Lois Lane #70, 1st Silver Age Catwoman), Jimmy Olsen back issues struggle to sell in almost any condition. Nobody cares.
Until Darkseid, that is. Kirby's start on the run made all the difference.
Now Darkseid's confirmed as a major antagonist in the upcoming DC movies, his first cameo appearance in Superman's Pal Jimmy Olsen #134 is hot property. So hot, in fact, that we struggle to recommend it above 9.2.
A CGC 9.8 example just sold for nearly $7,000. That's a lot of coin for a book recently languishing in dealer dump bins. The ride has been spectacular.
We hope this book treats you well, as we feel Darkseid is the DC equivalent of Thanos.
What to Invest In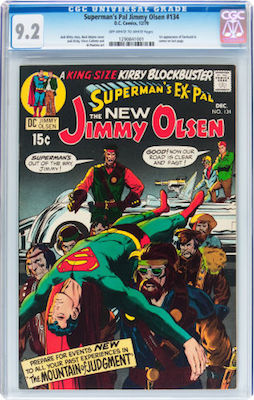 Superman's Pal Jimmy Olsen #134 is hot property, thanks to the 1st Darkseid cameo. Click to buy a CGC 9.2 copy
Have this book? Click to appraise its value NOW!
Related Pages on Sell My Comic Books
Most Expensive Comic Books of the Bronze Age (1970s)
Superman Comic Book Price Guide
All our DC Comics Characters Price Guides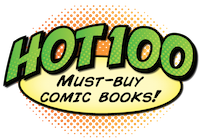 Click to return to the Hot 100 Investment Comic Books menu
Go from Superman's Pal Jimmy Olsen #134 to the 100 Hot Comics menu
Want to sell, appraise or buy comics online? Start here!