Why Batman Adventures #12 is a Hot Comic
Harley Quinn is the hottest character in the world of comic books. Way hotter even than Deadpool.
It's kind of a spin-off from the Joker's popularity. Quinn is Joker's girlfriend... kind of (the DC Universe gets a bit squirrelly at times). She's a close ally of Poison Ivy (Batman #181 is also on the Hot 100 list).
Both are slated to appear in the Suicide Squad movie.
Even though this book is not in the DC continuity (again, confusing...), it's considered the #1 must-own book by fanboys, cosplay lovers and comic book investors.
Batman Adventures #12 is a common book. But demand drives value. At one point, CGC 9.8s were hitting $2,000 and more. They have come off the top a little, but are comfortably more expensive than the equivalent grade of New Mutants #98.
Stick to CGC 9.8s. Don't buy a lesser grade, these are way too common. Pity the fools paying $300 or more for CGC 6.0 books.
What to Invest In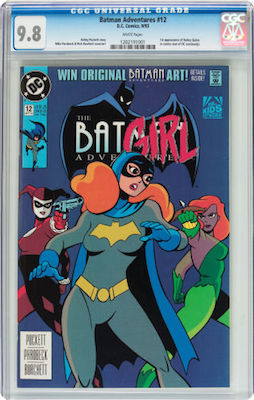 CGC 9.8s of Batman Adventures #12 are red hot, but fairly common. You don't want to be the mug buying mid-grade copies of this book for $$$. Click to buy a copy
While it's much more affordable, prices for Batman Adventures: Mad Love are softening. Still technically the first appearance of Harley Quinn in continuity. Click to buy a copy
Breakdown of Books on the Hot 100
As you make your way through the Hot 100 list, you'll notice a pattern developing. Movies and rumors of TV series create a ripple effect within series or character cross-overs.
Here we break down the 100 books by era, publisher or character.
Hot Books by Era
1940s: 1
1950s: 9
1960s: 38
1970s: 30
1980s: 10
1990s to now: 12
Hot Books by Publisher
Marvel: 51
DC: 38
Vertigo: 2
Archie/MLJ: 2
Image: 2
Valiant: 1
MAX: 1
Mirage: 1
Aardvark-Vanaheim: 1
Marvel UK: 1
Hot Books by Character (and Related)
Spider-Man: 11
Batman: 10
Avengers: 12
X-Men: 9
Flash: 5
Superman: 6
JLA: 10

Fantastic Four: 3
Daredevil: 2
Other: 32
Have this book? Click to appraise its value NOW!
Go from Batman Adventures #12 to the 100 Hot Comics menu
Want to sell, appraise or buy comics online? Start here!