Ant-Man Movie: Edgar Wright Pulls Out... What Now for Key Comic Book Values?
Ant-Man Movie and Comic Book Values
by Karan Dholakia and Ashley Cotter-Cairns
The cinematic adaptation of Ant-Man has been in the works for the last 10 years. 
In 2003, Edgar Wright (Hot Fuzz, Scott Pilgrim Vs. The World) had met with Artisan Entertainment, who, at the time held the rights to the pint-sized character, and wrote a treatment for the comic-to-screen adaptation along with his writing partner, Joe Cornish.
In 2006 the tentative plans for the Marvel Cinematic Universe are announced, along with the Ant-Man movie, which Wright would be co-writing and directing.
At Comic-Con of 2012, Wright presented a test reel of his vision of the pint-sized hero, which provided an extraordinary look at how the character would be translated from page to screen.
Things for the Marvel movie were moving forward pretty well, Wright had begun production on the film, the cast had been set with Paul Rudd playing Scott Lang, Michael Douglas as Henry Pym.
Prices of Tales to Astonish #27 (first Hank Pym/Ant-Man Appearance)
Speculation in comic books tied to movie releases is a fact of life in the comic book industry these days. The movie hype has seen prices spike rapidly since 2012.
While many collectors may associate the character with his first in-costume appearance in Tales to Astonish #35, the hottest issue is the first Hank Pym appearance in Tales to Astonish #27.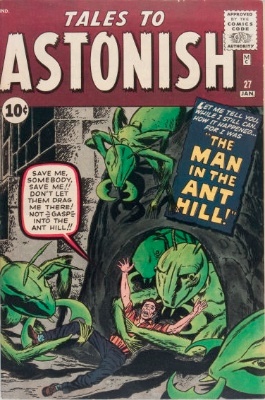 Tales to Astonish #27: 1st Hank Pym
Record sale: $200,000
Click to check current market values
Tales to Astonish #35: 1st Time in Costume
Record sale: $51,000
Click to check current market values
Here's a graph showing prices for a fairly typical example of TTA #27 in mid-grade, CGC 4.5.
Prices of Tales to Astonish #35 show a similar growth curve, though prices are much lower for this issue.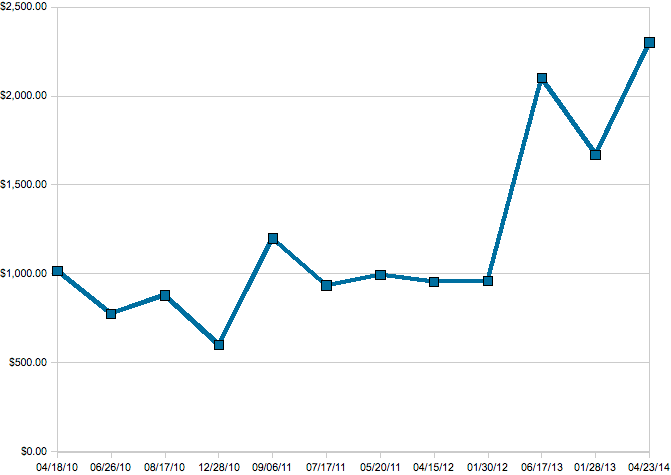 Data provided by GPA Analysis. This awesome tool tracks all sales of CGC-graded comic books.
So What Went Wrong?
Fast-forward to May of 2014, and, due to "creative differences", Edgar Wright officially parted ways with the film. 
In a joint statement released by both Wright and Marvel, it was announced that the studio and Hot Fuzz director parted ways "due to differences in their vision of the film".
It isn't the first time a Marvel production has suffered a directorial issue; take Jon Favreau, for example, who directed both Iron Man 1 and 2.
Favreau and Marvel had issues coming to an agreement, and as a result the Iron Man sequel had a rushed feel to it.
What Has Happened to Key Issue Prices? Are They Softening?
In a word... No.
TTA #27 is one of those issues which was probably under-valued, being the first appearance of a relatively major character. Although Ant-Man is probably not Marvel A-list, he's certainly B-list.
Don't forget that this character was part of the original Avengers line-up. Avengers #1 is a special case; there are so many characters that prices are strong on the issue, but it turns up way more often than TTA #27.
Check out the currently available issues below.
We recommend Tales to Astonish #27 as a STRONG BUY AND HOLD.
The Future of the Movie Project
What does this mean for the future of the Ant-Man film?
Wright's hard-hitting and unique visual style would have undoubtedly been a warm welcome to fans of both Wright and Marvel, but now that Wright is no longer attached to the project, the film inevitably will not be the same.
The premise of the film adaptation has changed somewhat, though the essence of Wright and Cornish's material remains.
Though it remains to be seen in which direction Peyton Reed (Yes Man, The Break-Up), the newly appointed director of Ant-Man, will take it.
Adam Mckay (Anchorman, The Other Guys) will be helping out with the script, which means Marvel wants someone with a strong comedic background to both direct and supervise with the script. 
With McKay and Reed both on board, the film could be heading for a fairly high success rate, though the following of Edgar Wright, especially in the comic-book community is unrivalled if compared to either of the former.
References
More of our Comic Price Guides
Value, insure or sell comic books today